Outlook 2023 – Friday 17th November 2023
State Reception Centre, Frasers Kings Park
Book your tickets now for an insightful and engaging day of learning, networking and exploring the latest developments in the agriculture industry.
Put 17th November 2023 in your calendar and get your ticket to join your colleagues and friends for a day of learning, networking and growth.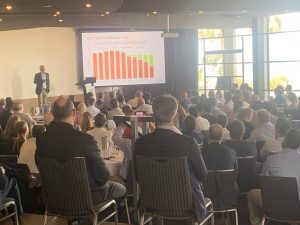 The Commodity Outlook sessions are just one of the many highlights of OUTLOOK 2023, which promises to be a highly valuable event for professionals across agricultural industry. Whether you are looking to stay up-to-date with the latest trends and insights, network with peers and industry leaders, or explore new opportunities and partnerships, OUTLOOK 2023 is the perfect platform to do so.
The program will be published here shortly but is including WA's Minister for Agriculture and Food, Forestry, and Small Business, the Hon. Jackie Jarvis MLC who will open OUTLOOK 2023 providing valuable insights into the Government's vision and policies for agricultural innovation and development in WA. 
Leading Economist, Adelaide Timbrell will provide a comprehensive global outlook, highlighting economic trends, research and forecasts affecting Australian agriculture and global markets. Global analysts and industry specialists will provide comprehensive Commodities Outlooks for grains, wool and livestock.
Speakers from Rabobank, CBH and and industry supply chain will discuss the implications of environmental, social, and governance (ESG) considerations in agriculture, including impacts at the farm/business level, legislation, changes in supply chains, certified products, and carbon reduction opportunities.
Contact: info@aaacwa.org.au
Are you an agricultural consultant? Or are you part of an agricultural related business? Become a Member and attend at member price!