Professional Development
Providing members with cutting edge professional development, rich networking opportunities and representation in the industry
Upcoming
Professional Development - Succession Planning for Agriculture
Explore the sensitive and critical aspects for continuity of farming businesses at the Professional Development day on Wednesday 16th November at UWA Club.
Bringing their wealth of experience in legal, financial and business strategy are
Bob Hall & Richard Vincent        Consultants
What is succession & the role of the consultant? Where do you start and who is involved?
Simon Bedbrook      Financial Planner    Bedbrook McCarthy
The role of the financial planner. How much is reasonable for the retiring parents?
Alex Granich     Lawyer             Granich Partners
The role of the lawyer. Common legal issues needing to be dealt with. Key features of a successful succession plan.
Neil Hooper      Accountant       Byfields Business Advisers
The role of the accountant. Business and ownership structures that help and hinder succession plans. CGT & Stamp duty implications.
Paul Donovan   Lawyer             MDS Legal
Insights into a few of the more complicated and contended succession plans.
The quarterly AAAC (WA) General Meeting will precede the seminar and introduce the new AAAC Members and elected Steering Committee.
Event Location
UWA Club, Crawley - Seminar Room
Entrance 1, Hackett Dr
Crawley, WA, 6009
Event Fees
Car Parking - Reserved
AUD 15.00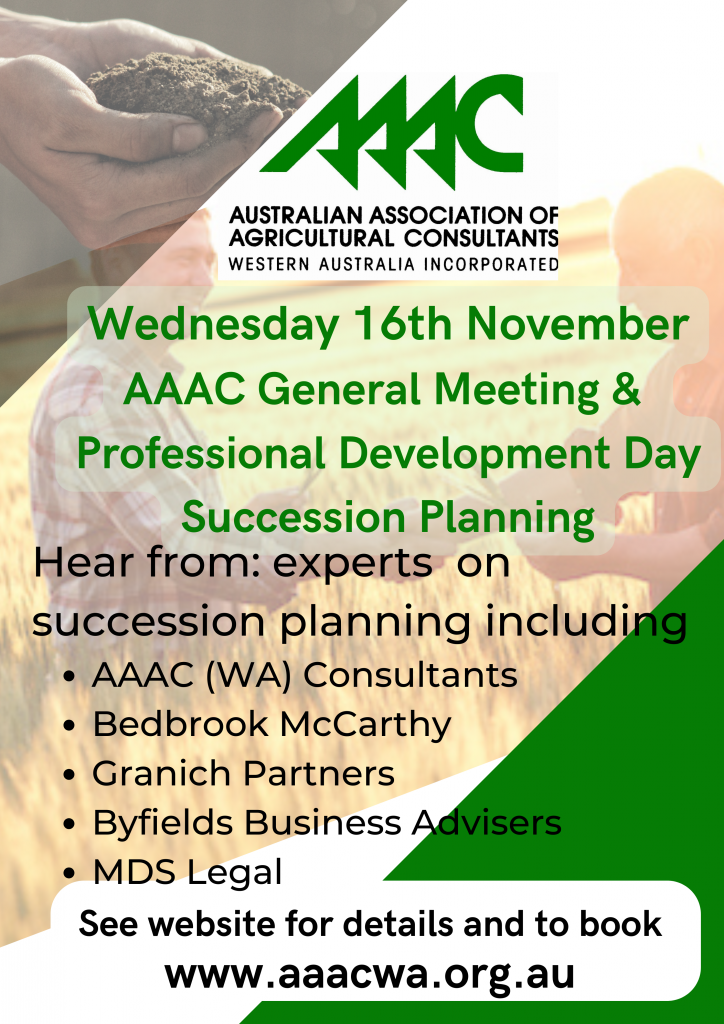 The September Professional Development day in the surroundings of Carnarvon in the Gascoyne region was a great success. Members learned a lot from the hosts who were very generous and gracious sharing their expertise with us.
Be sure to register for the next Professional Development day which is the day before Outlook, Wednesday 16th November, at UWA Club. A special thanks to AAAC Member, Alan Peggs, for the idea and itinerary of the September Professional Development day.
Industry Update from DPIRD – Foot-and-Mouth Disease and Lumpy Skin Disease preparedness
May 2022 PD – Friday 27 May 2022, Wembley
DPIRD Carbon Neutral Grain Pilot – Mandy Curnow, DPIRD
Nitrogen: Supply and Demand Issues – Rusty Burke & James Easton, CSBP
Key Person Loss – Dani Whyte, Braeleigh Consulting
The Healthy Farming Business – Stuart Wesley, Oasis People & Culture
Understanding Insurance Premiums – Dan McCallum, Trident Insurance Group
Grain Market Update with Lloyd George, AgScientia – Wed 4 August 2021
Tax Implications Webinar – Tues 22 June 2021
April 2019 PD – Thursday 11 April, 2019, Quest South Perth Foreshore
PD Papers from April:
DPIRD Soil Amelioration Presentation AAAC PD day 11 April 2019
November 2018 PD – Thursday 22 November 2018, PCEC
November 2018 PD Day Program Registration form
PDF Embedder requires a url attribute